| | |
| --- | --- |
| Do You Still Believe? | Next |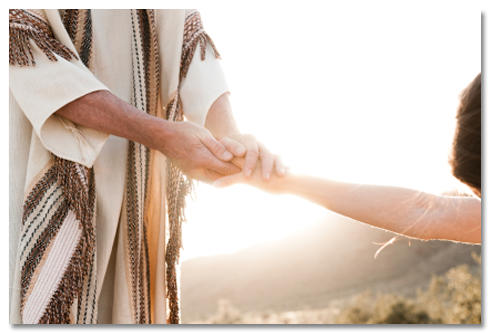 After becoming believers our family started to practice living out our newfound faith. The best way seemed to be through studying the Bible, prayer and then by applying what we learned to our lives. This was quite challenging at first and then I purchased a Life Application Study Bible. This study bible really helped guide us in applying what we were learning to our modern life, while proving to us that the Bible is as relevant today as it was years ago.
Some of the stories and teachings really hit home. For example, the story about having a firm foundation built on Christ so that you can withstand the storms in life.1 When Brock had first been diagnosed we did not have a firm foundation and we felt completely battered and broken by the storm. Fortunately we were thrown a life preserver and were eventually pulled into the loving arms of our Lord and Savior, Jesus Christ.
A parable that provided guidance for starting over was about a home that had been swept clean and the importance of filling it with the Lord.2 If we didn't, the past would come back stronger than before and the result would be worse than ever.
Of course the message of Matthew 18:20, "for where two or three gather in my name, there I am with them,"3 was greatly appreciated and heartfelt every time our church family gathered to pray for us as we returned to the hospital for checkups.
In the months that passed after our acceptance of Christ, we started seeing His word come alive in our lives. Not only in the peace and joy we had in our choice, but also in seeing first hand that the Lord was trustworthy and faithful.1
We felt his presence while we studied and prayed and his loving patience as we attempted to put what we learned into practice. It was exciting talking with the boys about what they had learned in their Sunday school classes and seeing them enjoy the messages in the Veggie Tales videos. They had their own kid Bibles and bags to carry them complete with notepads, highlighters and pencils. In their notepads were drawings they had made of the cross and written in their little kid handwriting, "Jesus loves me."
Another thing we noticed was the steady theme that everything happened according to the Lord's timing. Floods waited until he sent the rain, nations were warned and given an allotted amount of time to change their ways and most importantly Jesus fulfilled every single prophesy ever given about Him right on schedule. No event was or ever will be a surprise to God.
That's what makes a personal relationship with Christ so amazing. We can communicate with the one who knows everything about us,5 knows what the future holds and will guide us and be with us every step of the way, no matter what storms come our way. That gave us some confidence in the foundation that we were now building upon. Good thing because the next thing we knew a hurricane was coming.
When Brock had to have a biopsy after his dental work was complete we started bracing ourselves. We had been through the cancer storm before and it seemed that we would be going through it again. But there was a huge difference the second time. This time the projected path of the storm was certain death. As you can imagine, that news shook us to the core.
As the storm intensified, we felt tossed around by hopeful cures or treatments that in the end would be of no value. Once Brock set the record straight in telling me that there is no better place than being with Jesus, we found calmness in that truth amidst the storm.
We had no way of preparing for the devastation we felt after Brock died. Not only were we completely drained emotionally and physically, but spiritually we also felt the beating. It was much easier believing when life was going great. Now we questioned our faith. Was Brock really with Jesus? Was the Lord with us and would He help us through this loss? Why did this happen? We were living better, didn't that count for something?
In the past we had experienced financial problems due to all the medical bills. But we had seen the Lords provision through that trial and knew that He had provided jobs and payment plans for us. This was so different, Brock wasn't coming back and this couldn't be fixed with time or money.
Again, a message from the Bible provided answers for us. The story of the man born blind answered a lot of the questions we were asking.6 The answer was that it happened for the purpose of bring glory to God. People started contacting us to tell us that Brock's story had encouraged them and gave them hope. Cancer patients told us that his courage gave them courage. People were finding hope and that's what our lives should be about. Telling others where to find hope, by word of mouth and by example, and that hope comes from Jesus Christ.