| | |
| --- | --- |
| My God - My Everything | Next |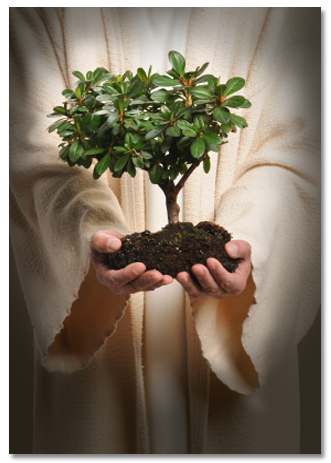 I remember the first Bible study that I participated in was called Experiencing God. One of the main things I learned from it was that God pursues a relationship with us and he wants to be involved in our lives. Another truth I learned from the study was that we could experience God in every area of our lives. In the Bible there are many names for God and those names correspond with his character and how he filled a particular need at a given time. For example he is our rock when we need his strength, he is our shelter from the storm and he is our provider and so much more.
I understand our need for God in our lives, we need a Savior and we need guidance and direction from the creator. What I didn't understand was how much God wants to be involved in our lives. Throughout the study I could see the many ways that He had orchestrated events, people and circumstances to draw me to Him. Why would He do that? He did it because he loves me enough to die for me1 and he also wants what's best for me.
We all want him to be part of our life when things are not going well. Prayers of desperation and petition are more frequent than ever when disaster strikes. But what about all the other times in our life, times when life is moving along just as we want it too. Do we want him to be a part of our life then? He wants to be involved every day and every moment,2 but he will not go where he is not invited.3 I am overjoyed that the God who knows all,4 sees all5 and is in all,6 has been invited into my life, but I also realized that I hadn't invited him into ALL of my life. Yes he is My Lord and My Savior, My Comforter and My God, but he wants to be so much more. By holding back other areas of my life, I was limiting the opportunities available to me by inviting him in.
I thought God handled the big things and I was responsible for the small things. After all I had been taught that God helps those who help themselves. By the way, that quote is not in the Bible and the truth is we cannot save ourselves Jesus had to save us.7 That being said, I like many people, prefer to be in control of my circumstances and make my own decisions. It's human nature. It's true that I am in control of the choices I make in a given circumstance, but I will never be in total control of life's circumstances. So why not be in a relationship with the one who is?
When I have questions, why not ask the one who knows everything? When I feel lost why not seek the one who is everywhere? When I am weak why not find strength in the one who is all-powerful?
Asking God for direction or help doesn't make you weak. Another quote I heard frequently when growing up was that we should do all in our power first and then ask God if needed. That is backwards and a complete waste of time. Wouldn't you want clear direction from the beginning so that you could avoid mistakes and make the most use of your time and resources?
I think the biggest reason I hesitated inviting God into other areas of my life was pride. I wanted and thought I could do it myself. If I didn't know the answer I would figure it out by trial and error. It took time and continues to be a process today, but more frequently I am asking God first.
To some it might seem irreverent to think of God being our trainer, our teacher, our friend or our employer as if these titles could diminish his deity. But if God is everything to you, then he is capable of filling all these areas of your life in addition to being your Lord and Savior. In the Bible is says, "Whatever you do, work at it with all your heart, as working for the Lord,"8 and "trust in the Lord with all your heart and lean not on your own understanding; in all your ways acknowledge him and he will make your paths straight."9 That sounds like clear direction to me, so I tried it.
I asked God to be My Teacher because I wanted to know and understand his word. He directed me to each and every bible study, he coordinated Bible College and he provided every study guide I could imagine. Then it was my turn, I needed to make the time to study with all my heart and to study with the mind-set that he is My Teacher. When I would study for tests I would imagine Jesus sitting with me and encouraging me with each right answer. It made me smile when I would get the answer right and imagine him saying, "Good job!" All of my college tests had to have a signature of a proctor so my husband took that job and was very thorough. Before he signed each test he would ask me if I cheated. I would laugh and say, "On a Bible test, are you kidding?" With Jesus next to me there is no way that thought even crossed my mind. He is My Teacher and I want to learn everything I can from him.
Not only has he provided resources for me to learn, he has also surrounded me with mentors and other believers who are willing to share life experiences, encouragement and fellowship. When your teacher is God, the sky is the limit.
That worked out so well that I invited him into another area of my life, My Trainer. When Mitch was getting ready to leave for college I knew that I would have to find something to do so that I could avoid the depression I knew would come. I thought running might be a good idea and jumped on the treadmill and ran as long as I could which ended up being about two minutes. I didn't know the first thing about running and it showed. But the idea of running a race intrigued me and I decided to ask the one who created me for help. I prayed about how to begin and a few days later I heard about a program called Couch Potato to 5K. It was exactly what I was looking for.
I started the program and signed up for a 5K race that would take place later in the year. That gave me a goal date and by committing to the race I would be motivated to stick to the plan. I believed that the plan was a gift from My Trainer because I had asked for his direction and the plan was provided. When I would have a tough workout and would start to think that I couldn't complete the requirements, I would remember a quote that I have on the wall of my exercise room. It says, "If God brings you to it, he will bring you through it."" He wouldn't ask me to do anything that he has not equipped me to do.10 He knows how much my body can handle and I was learning to trust him as My Trainer.
Along with the workouts he provided so much more. I would listen to worship songs while exercising and when I would run outside he provided amazing scenery. He also taught me life lessons along the way. On days when a long run was scheduled, I learned not to think about the distance I had to go to reach the finish line, but rather to enjoy the journey along the way. When I was reaching the point of exhaustion and still had a ways to go, he would encourage me by only showing me a few yards ahead. The path would twist and turn so it helped me understand that I only needed to see the next few yards and he would give me the strength to reach the bend. Once I reached the bend he gave me excitement at reaching that point which motivated me to go to the next bend. He always provided just what I needed.