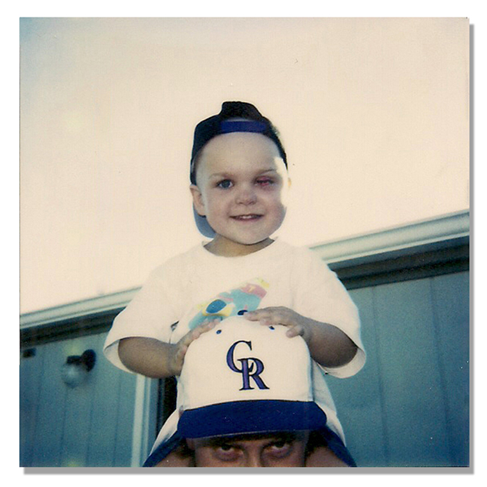 While at the hospital mom would stay the night at my uncle Robert's home. Their family was so nice to us; there was always a nice clean room, hot food and love whenever we needed it. For a little while dad had a union job in Utah and he and Mitch also stayed there.
Mom would leave early in the morning to get to the hospital to see me. I would not eat anything until she got there. We always gave each other a big hug first thing and then we both knew we would be alright for the day. After breakfast we would watch the movie Cinderella every morning while rocking in the rocking chair. I liked the mice in the show, Jack and Gus. One morning mom surprised me with my own Gus and Jack stuffed animals. From then on they joined us while watching the show. It was our special time together.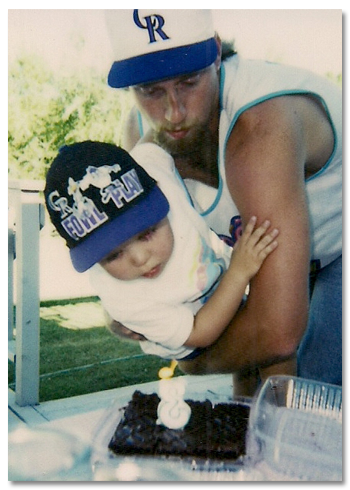 My doctor noticed that my eye was not blinking as much as it should and I had to have it sewn shut to protect it. It gave me quite a shiner just in time for my third birthday. I was able to go home for the weekend and grandma Lona had a birthday party for dad and me. As always dad lifted me up to see the sights and we got matching hats for our birthday presents.
After a weekend home it was back to our new reality. When we returned to the hospital the nurse told mom that she was going to have to learn how to give me shots. I would have to have these shots during the first week after treatment to help get my blood counts up. They had mom practice on oranges which she was comfortable with, but she was very nervous about giving me shots. She didn't want to hurt me.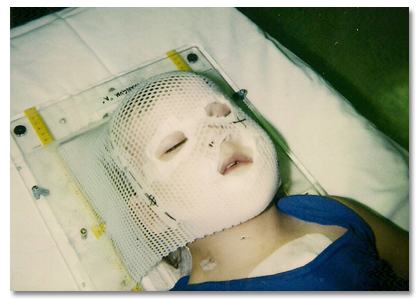 The radiation treatments had to be very exact, so I was sedated again so small dot tattoo's could be put on my face to line up the laser and so a mesh mask could be made to hold my head in place. When I would go into the radiation chamber I would have to lie on the table and they would put the tight fitting mask on my face and bolt it down. It would leave small indents from the mesh afterward because it was so tight.
Everyone would have to leave the room and the large door would close. Mom would talk to me through a microphone and I was supposed to hold perfectly still. One of the nurses gave me a stuffed dog to hold during the procedure so my arms would not move. The staff was very surprised that I could be still for the whole treatment. I named the dog Duke, the radiation dog.
I received radiation at the University of Utah hospital which is connected to the Primary Children's Hospital by a covered walkway. Mom would push me in a stroller because it was a long walk. One day when we were returning from my treatment we entered the hallway and the wheel of the stroller squeaked. It echoed through the hallway and we laughed. There were two men at the opposite end of the hallway and they turned around at the sound.