My parents were overwhelmed and comforted by all the kindness shown to our family. That love didn't end with the funeral it continued on for years to come. As a Christian, death isn't the end, it's a new beginning. My parents have peace in knowing that I am with Jesus, but being human they still deal with the human emotions, doubts and realities of living life without one of their sons.
Mom wrote about her feelings in this poem:
Good-Bye For Awhile

Today I said good-bye to you, but only for awhile.
I'll miss your childlike view on life and your one and only smile.

With love, strength and amazing faith each trial you endured,
You lived your life for Jesus Christ your eternal life secured.

Forever now to live above unbound by earthly chains.
Surrounded by our Father's love released from mortal pains.

Reminded by each rainbow in the sky above I see.
My little angel in heaven for now and ever you'll be.

My tears may flow like a river, my broken heart will have to mend.
But I trust in God's own promise through Him the pain will end.

The peace that God has given me puts my mind at ease and rest.
That you are in a place somewhere described as being the best.

Before too long the day will come when our mission here is through.
To be in heaven with God above and together again with you.

Then in the presence of our Lord united in a life brand new,
I'll share joy felt hugs and kisses all eternity with you.

Please remember that I love you no matter where you are.
God made love to reach us all no matter how near or far.

I love you – Mom
Our family is deeply blessed. We had time together, time to say the things we wanted to, time to make memories and time to love each other. Speaking about time, the Lord's timing is perfect and when you look back at my story you can see how He was orchestrating opportunities and events the whole way. He sent encouragers every step of the way and patiently waited for our response to his invitation for a personal relationship with Him. My family chose to accept Christ's invitation and because of that choice they have a hope and future. We base our hopes on the promises found in His word, the Bible.
Can you imagine how my family would have handled my death if they didn't have hope for eternity? Because of that hope they can continue, they can get up each morning and know that He will give them strength for the day. And the best part is that they get to experience a relationship with Jesus Christ every day for the rest of their lives.
Like every relationship, it is a process and takes time. The more time you invest in getting to know each other the better your relationship will be. God already knows everything about you, He created you and He loves you. Accepting His personal invitation is the most important decision we ever made. Jesus Christ is inviting you to join him in your own relationship with Him, will you accept his invitation?
Accepting his invitation can start with a simple prayer:
Dear Lord Jesus:

I know that I am a sinner and I believe that you died to pay the penalty for my sins. Thank you for taking my punishment. Please come into my heart and help me to live for you. Amen.
My family had only been Christian believers for about a year before I went home. They didn't know it all nor will they in this life. This world does not have all the answers, but my family has the privilege of learning more every day. They learn about dealing with real life situations by reading God's word, prayer and fellowship and sharing with other believers. They want to encourage and comfort others with the encouragement and comfort they have received. Read about their experiences in the Hope and Promises section. God Bless you and I hope to see you in eternity.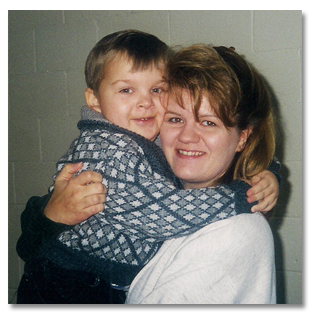 I would like to thank Audra for all the time, effort and love she put into creating and designing this website so my story could be told. It gives the reader just a taste of the amazing aunt that God blessed me with......

I love you - Brock