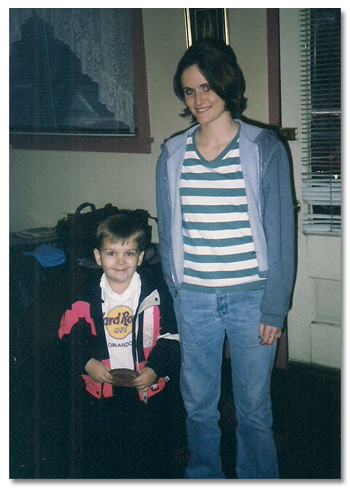 My uncle Josh had a girlfriend named Laura. I loved Laura. She was pretty and she always talked to me and would play with me whenever I saw her. So I asked her on a date and she said yes! The night of the date came and I was looking my best. I had my nicest clothes on and my hair slicked back; I also used some of my dad's cologne. Then I asked dad for twenty bucks. Laura arrived and we left to go to dinner at McDonalds. She drove and mom and dad watched as she opened the door for me and helped me get into her car.
Later we returned home to play with our race car track and have ice cream. Mom asked me how the date went and I said with a huge grin on my face, "She kissed me!" Later Laura told mom that while we were eating dinner I was swinging my feet under the table. Every so often I would hit Laura's leg. She told me that when a boy kicks a girl he wants a kiss. She then told mom that I kicked her instantly in the shin. It was a very fun night.
While dad was at work and Mitch was at school mom and I spent every minute together. We painted, made videos and rocked in the rocking chair that dad bought for us. Each day we spent more time in the chair because I was sleeping more and more. The tumor had grown quite a bit and I now had what looked like a small purple grape filling my nose. My neck was also starting to bulge on one side.
One day a chunk of the tumor broke off and mom and dad took me to the doctor. He had already assembled the surgical staff and they were waiting when we arrived. After they examined me they told mom and dad that the cancer had spread everywhere. They said they could de-bulk it again, but that it would not improve my quality of life or my time; I was suffering now. Then Dr. Hinkley sat in front of me with the whole staff around him. He said, "Brock what do you want to do?"
I looked around the room and said, "I want to go home with my family and then go be with Jesus." Then Dr. Hinkley stood up and shook my hand. He told me I was very brave and that it was an honor knowing me. Every staff member shook my hand or hugged me and they all had tears in their eyes.
Nurses from Hospice started visiting regularly and I was on morphine for the pain. That made me sleep even more and mom would rock me for hours because she wanted to hold me every minute that she could. A month before she had been praying for a miracle. Now she was praying that I wouldn't suffer and that she would have the strength to let me go.
A friend of mom's had lost two of her daughters. She told mom that it would be a little easier if I was able to pick out my own clothes for the funeral, that way we would know I liked the clothes and it would be one less decision that would need to made during that time. We went shopping and I picked out a new shirt, pants and a cross. We called them my special clothes and I told mom not to forget my cowboy boots and to make sure I was wearing my cross; I wanted to look my best.
My heart was beating so fast that you could actually see the pulses in my chest. The doctor said it was because it was working overtime to produce enough blood due to the tumor taking so much. He gave me some medicine that would help me relax. He told my parents that the time was near. Mom prayed that she wouldn't be alone when I went home and that it would be peaceful for me.
On April 27, 1999 I woke up early and was walking towards my parents' bedroom when I fell down. Mom heard me and came running. My heart rate was higher than before and mom and dad gave me the medicine that had helped me relax the day before. Dad called into work and said he would not be going to work and he and mom sat with me in the front room. My heart rate slowed down and I was resting so dad went back to bed. Mom sat holding me against her chest on the couch. She stroked my hair and sang me to sleep, kissing my head often and telling me how much she loved me.
She had looked at the clock on the VCR and dozed off. About five minutes later she opened her eyes to check on me and I was gone, peacefully in my sleep. Her prayer had been answered. She kissed my head, cheeks and fingers as she held me. After she had held me for awhile she carried me into her bedroom. Dad woke up the minute he heard her in the room and he asked how I was. She told him I was gone and he reached out for me. He held me tightly while his heart broke and he sobbed rocking me back and forth. They held me together and cried.
After they had their own private time with me, they made the necessary phone calls. By that time Mitch had woke up and asked how I was. Mom was holding me on the couch and told him that I was gone. He was hesitant to touch me, but before long he was stroking my hair and gave me a hug. While they waited for the men from the mortuary to arrive mom rocked me. She knew this would be the last time. As she rocked me she remembered the day I was born and how throughout my life she had longed to hold me and rock me. This time was different; I was lifeless, full of tumors and pale. In her head she kept hearing a song that I listened to often. The words were "Arise Shine for your light has come and the glory of the Lord rises upon you". She felt in her heart that I had been met by angels that morning who welcomed me home, home to be with Jesus.
The men arrived and were extremely compassionate. Dad gave them the bag containing my special clothes and said we would meet them later at the mortuary. When they arrived that afternoon most of the plans had already been arranged. Dad had taken care of it earlier so that mom wouldn't have to handle all the details. After the meeting the funeral director asked if they wanted to see me. Mom anxiously said yes, please. I was in another room and when mom saw me she cried. She said I was beautiful. I had my special clothes on, my hair was slicked back like I liked it, I had my cowboy boots on and my cross and there were no tumors.
It gave her so much peace to know that that was exactly how I was now. Free from cancer and alive with Christ. Again she could hear that song in her heart and she knew I was home. When they returned home there was a large package on the front steps. It was a cookie bouquet that had cookies shaped like flowers and bees and said, "Have a bee-utiful day," That I did because I was with Jesus and there is no better place than that.